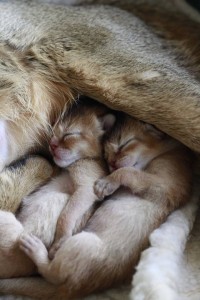 Kittens will be available at 14 weeks, they will be wormed and fully inoculated against cat flu, enteritis and feline leukaemia virus (FeLV). They will come with a signed five generation pedigree certificate and with 4 weeks pet insurance. We include a supply of their favourite food and a blanket that smells of mum and siblings, plus some toys, to smooth their transition into their new family.

All kittens will be registered with the GCCF on the non-active" register (unless prior arrangements have been agreed with us), which means they cannot be used for breeding purposes. A signed agreement to this effect will be required upon collection of your kitten.

As responsible owners, kittens and cats are best be kept indoors or in an area of safety. Enclosing an area, patio or carport with strong mesh is a good way of keeping your pet safe.
Maisie and Cairo's kittens were born February 7th – They are AbyDreames Antony and AbyDreames Cleopatra
We received these photos yesterday from the lad's slave-in-training, Jayne who has given permission for us to share them. Antony is now called Obi and as you can see he and his big Bengal brother, Zanzi are bird watching together – a worthy hobby