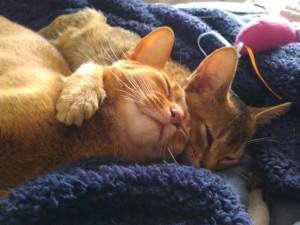 Welcome to the AbyDreames website. These pages are dedicated mainly to our beautiful Abyssinians, but you will also be able to follow the antics of our other cats too (Molly & Magic). We had admired abys long before owning one – due to our cat at the time being very much a solitary boy, who did not appreciate the company of anyone but us (we were tolerated as his slaves as we fed him nice things most of the time…) we were restricted to just  the one cat. When we lost Tigger at the age of 15 we realised life without a cat was not possible, there was a big part of our lives missing – but about 3 weeks later, we fostered our son and daughter-in-law's 2 cats after the arrival of their first child, Thomas… Molly and Boris filled the void in our life for a while, but unfortunately Boris succumbed to illness and Molly was left lonely and was pining over the loss of her lifelong companion. We started our search for another cat with a visit to Alan & Rebecca Eagland (Abychat) to look at some Abyssinian kittens they had available. Upon viewing said kittens, our hearts were stolen by the sweetest little sorrel girl, Abychat Equinox (Poppy as we call her) she was just 5 weeks old at the time, but we both fell in love with her. The next 9 weeks were the longest of our lives; I'm sure, and we were both so excited the day we could go and collect our beautiful little girl.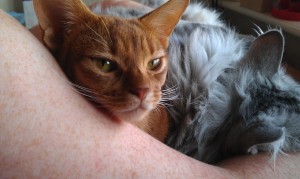 We are based in York, England. AbyDreames is a breeder's prefix registered with the GCCF. We aim to breed healthy Abyssinian cats and kittens with excellent type and temperament. Occasionally kittens may be available to permanent loving homes.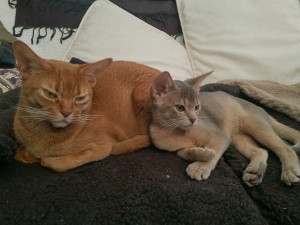 We really enjoy showing our cats, and meeting our friends (human and feline) at cat shows. Our cats have very different personalities yet they have lovely temperaments and enjoy being handled. We have a specific page devoted to their achievements.