Champion Abychat Grayling
(Riverfern Bump N Grind x Abychat Champurrado)
Our latest arrival, Abychat Grayling joined our family on Friday September 6th 2013.  We are very grateful to Rebecca Eagland for allowing Grayling to join us as a future queen in our breeding program. Grayling is growing fast and has been entered into her first cat show, the Yorkshire County Cat Club show on October 26th. She really is a live-wire – she likes to chase Magic up and down the stairs and he really enjoys being chased. Grayling enjoys wrestling with Cwen and playing pounce.
Our garden is 'cat-proof' so when the weather is nice our cats can play outside. After all the excitement a nice snooze with big sister, Poppy is always appreciated. Poppy watches over her like a mother hen – Poppy is in charge so she expects Grayling (as well as Magic & Cwen) to do as she says – bed time means a wash and then straight to sleep! Grayling is proving to be a beautiful little tinker – she likes to get into mischief.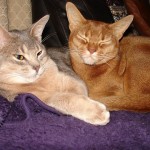 these photographs were taken Christmas 2013, Grayling is growing up fast! The top picture Grayling and Poppy are cuddled together.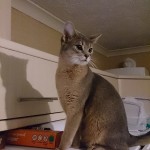 Grayling getting into mischief, she looks all sweetness and innocence but she is also a beautiful little vandal. The photo of the Christmas tree shows Cwen examining the damage after Grayling had climbed up to see what was at the top.