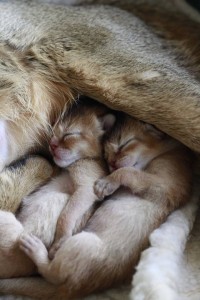 AbyDreames Kaleen is Trudy's daughter by Koperkat Khal Drogo (Spike). She readily mated with Robbie (Grand Champion Saladin Starwind), unlike her mum and Grandmother (Cwen) who don't fancy him at all. On Sunday August 25th Kali graced us with four big beautiful babies. Three are usual and one is blue. If you are interested in a kitten please message us via the contact page to register your interest, or visit our Facebook page and send a private message.
Kittens will be available at 14 weeks, they will be wormed and fully inoculated against cat flu, enteritis and feline leukaemia virus (FeLV). They will come with a signed five generation pedigree certificate and with 4 weeks pet insurance. We include a supply of their favourite food and a blanket that smells of mum and siblings, plus some toys, to smooth their transition into their new family.
All kittens will be registered with the GCCF on the non-active" register (unless prior arrangements have been agreed with us), which means they cannot be used for breeding purposes. A signed agreement to this effect will be required upon collection of your kitten.
As responsible owners, kittens and cats are best be kept indoors or in an area of safety. Enclosing an area, patio or carport with strong mesh is a good way of keeping your pet safe.
AbyDreames Khaleesi is Trudy's daughter by Koperkat Khal Drogo (Spike). She is currently nursing kittens by Robbie (Grand Champion Saladin Starwind). She gave birth on Sunday August 25th to two usual girls, a usual boy and a blue boy.
Kali's babies are two weeks old today. Their eyes are open and they are starting to toddle around their box.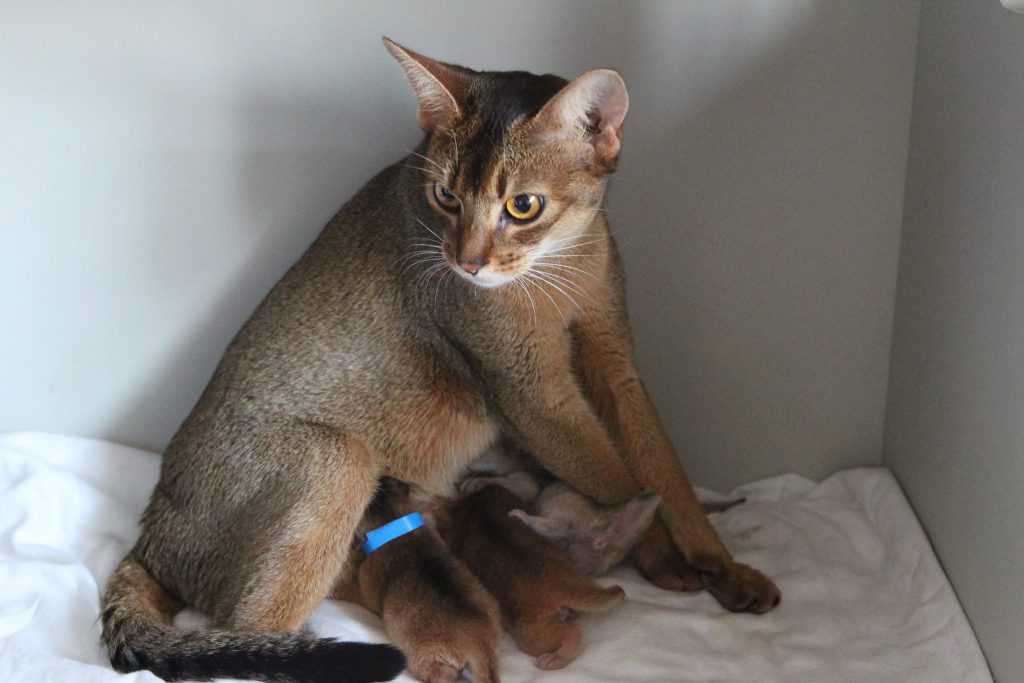 Kali's babies are now almost four weeks old. They can get out of the nest and toddle around easily now. The two boys enjoyed some of their mummy's fishy supper last night, the girls were too busy playing to have a taste.
The little hooligans are eight weeks old. They are mischief personified
Isis

Amun Ra

Sekhmet

Khepri

Amun Ra & Khepri