Grand Champion Naughtypaw Boudicca (Cwen)
(Gr.Ch. Nishalka Khepri x Ch. Merrydancer Baillee)
Tested PK Def and PRA Normal
Cwen joined our family June 23rd 2012 as our foundation queen. Many thanks to Gina Yates (Naughtypaw Abyssinians) for allowing us to have our beautiful girl. Cwen is a fantastic Usual Abyssinian, who enjoys shows and successfully gained her championship award in 4 shows. At the Abyssinian Cat Association show in April 2013 she was awarded Best adult female – a very proud, and exciting day for us and Gina.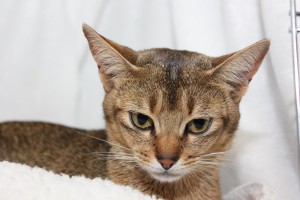 photo: by kind permission of Carol Walker
We first met her, and her siblings when they were only three weeks old. She was snuggled up to her mum – little rattily purrs emanating from three furry sausages feeding from Baillee. She didn't have a name then but Gina told us it would begin with 'B'. Gina eventually decided upon Boudicca (after the warrior queen) and her pet name, Cwen is an Anglo Saxon word meaning queen. When we brought her home Poppy decided that she was hers and so Cwen was received with open paws.
Cwen has grown into a beautiful big girl much bigger and weightier than her pseudo-mummy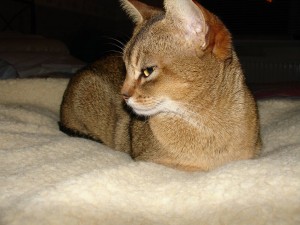 This photograph, and lovely profile shot was taken Christmas 2013.